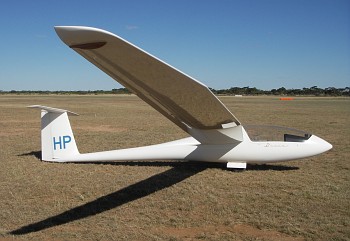 Standard class, single seat glider
Discus b HP is a very easy to fly glider with very good performance return. Most pilots feel very much at ease in this glider knowing there is ample performance to assist all skill level pilots with their flying.
The Discus can be flown with a very light wing loading or a very heavy one. Its wing loading range is wider than almost any other glider.
This sailplane was placed 5th in the 25th Australian Nationals at Gawler in January 1986. HP represented Australia in the 20th World Competitions at Benalla, Victoria in January 1987. It also placed third in the Austraglide competition at Benalla in January 1986.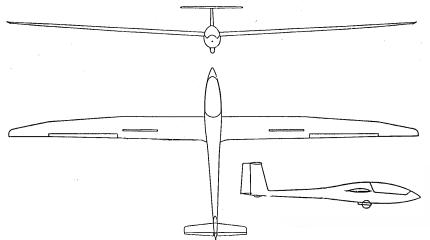 Performance
At 317 kg: minimum sink speed is 42 knots, best glide is 1:42.2 at 54 knots
At 525 kg: minimum sink speed is 54 knots, best glide speed is 66 knots
Specifications
Standard class: wingspan 15 m, retractable main wheel, no flaps
Wing Area: 10.58 m²
Empty weight: 247 kg
Maximum weight: 525 kg
Minimum pilot weight: 70 kg
Maximum pilot weight: 110 kg
Maximum water ballast: 184 kg
Wing loading range: 29.9 to 49.6 kg/m²
Find out Discus Handling Notes here.