1. Introduction
Waikerie Gliding Club (WGC) has been providing gliding operations for members and visitors, supporting local businesses, and attracting visitors to the region continuously since 25th May 1937. For all that time the Club has been at its present location. Throughout the years the Club has demonstrated a strong and continuing capability to adapt its operations to ever-changing circumstances whilst remaining at the forefront of the sport in Australia. This is best illustrated by some highlights of the Club's achievements over those years.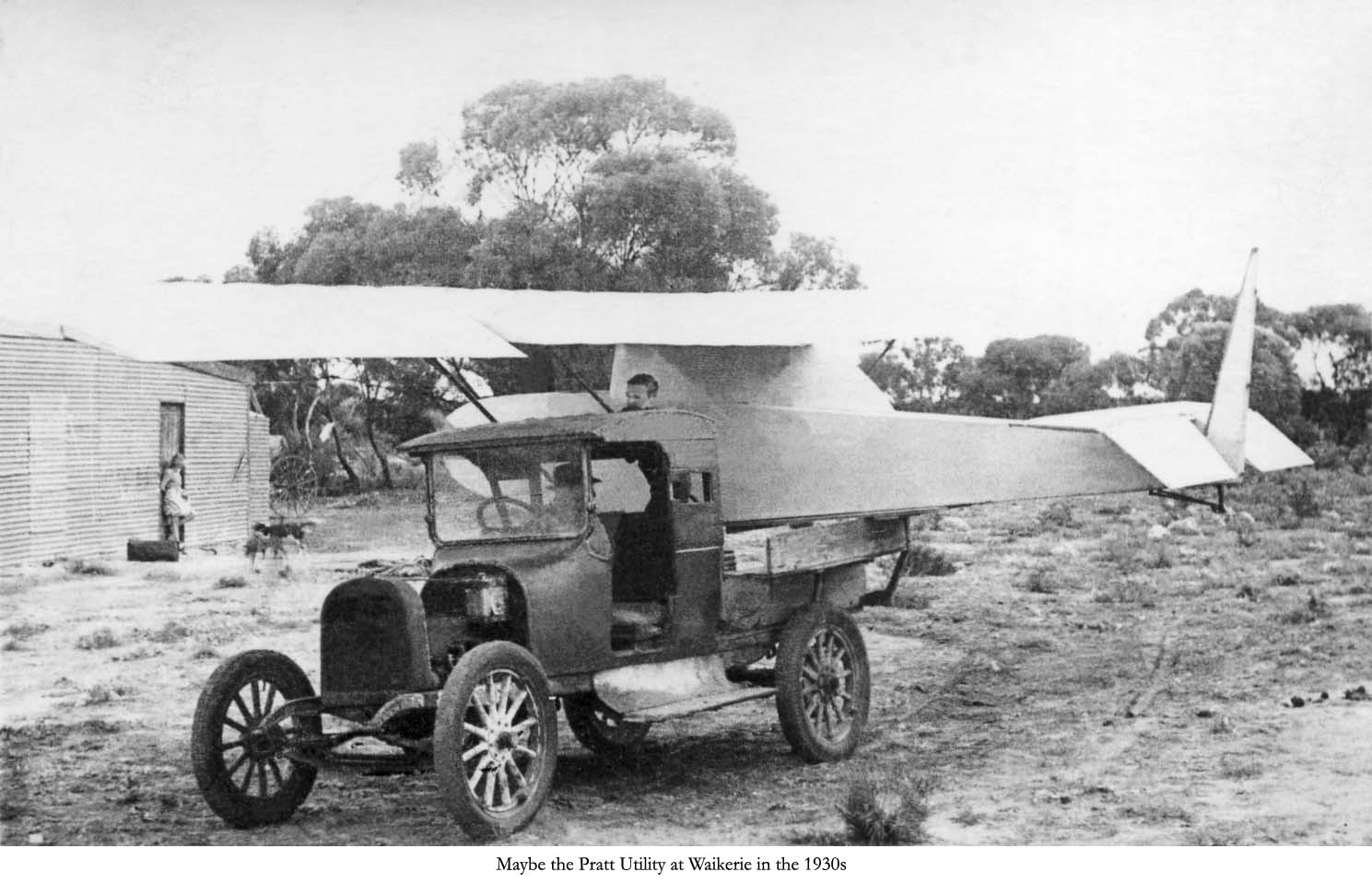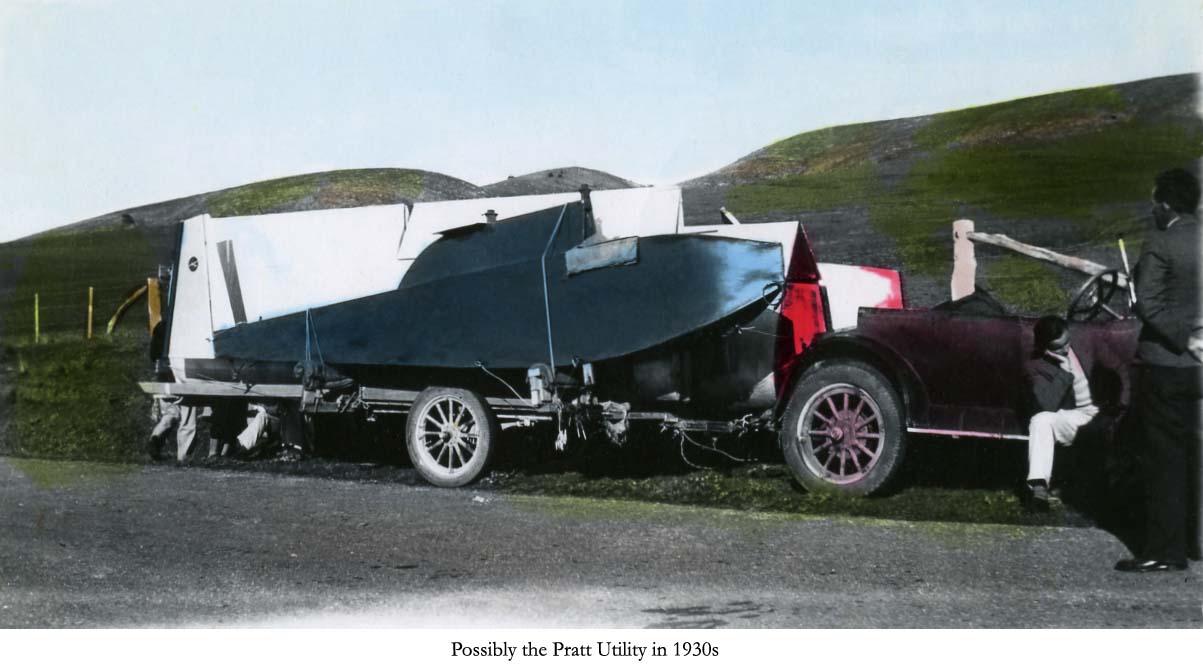 2. The Journey So Far – Highlights from the first 75 Years
1. In the beginning
From seeds sown by model aeroplane enthusiasts the formation of a gliding club was discussed at a meeting at Wohling's Garage on 12th December 1936.
WGC was formed on 25th May 1937 and located on the Waikerie town race course (now Waikerie aerodrome).
A primary glider was purchased on 31st May 1937 and preparations made for the public opening day on 27th November 1937.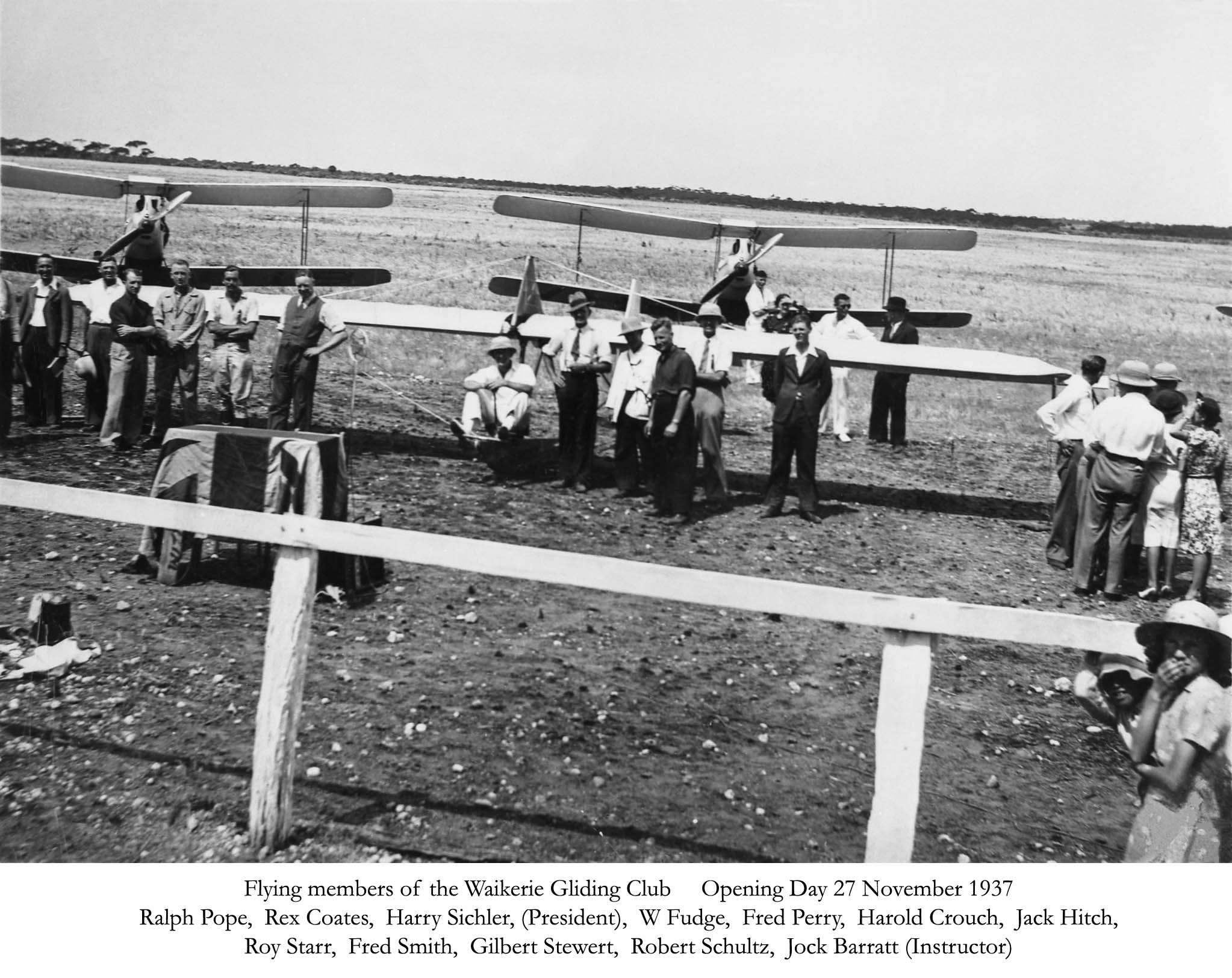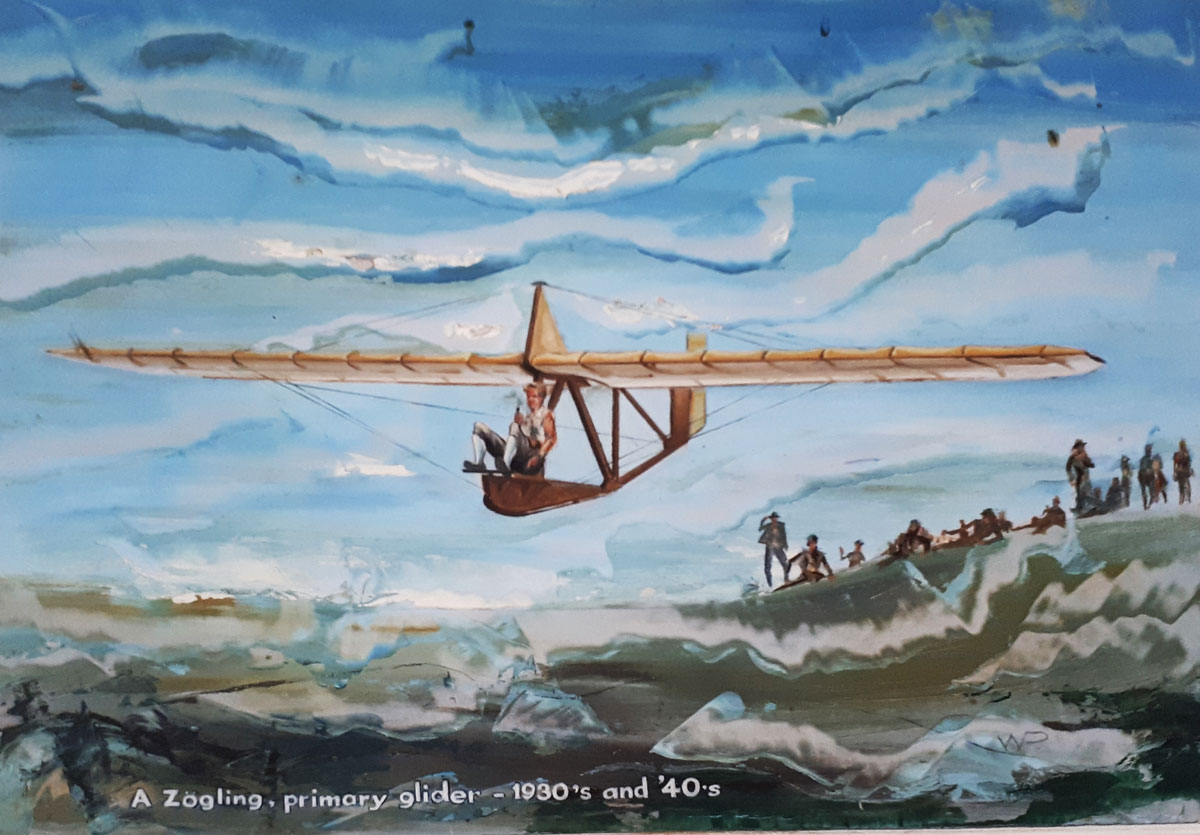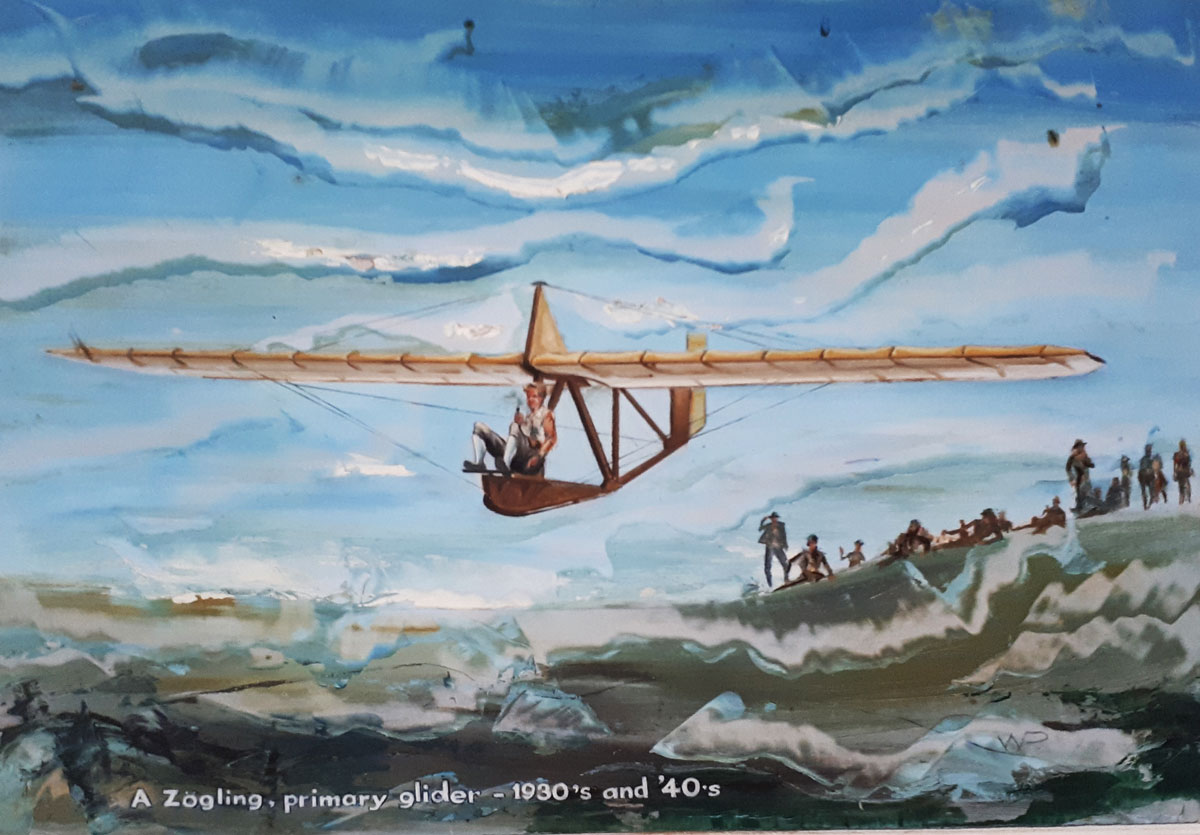 WGC incorporated in February 1938.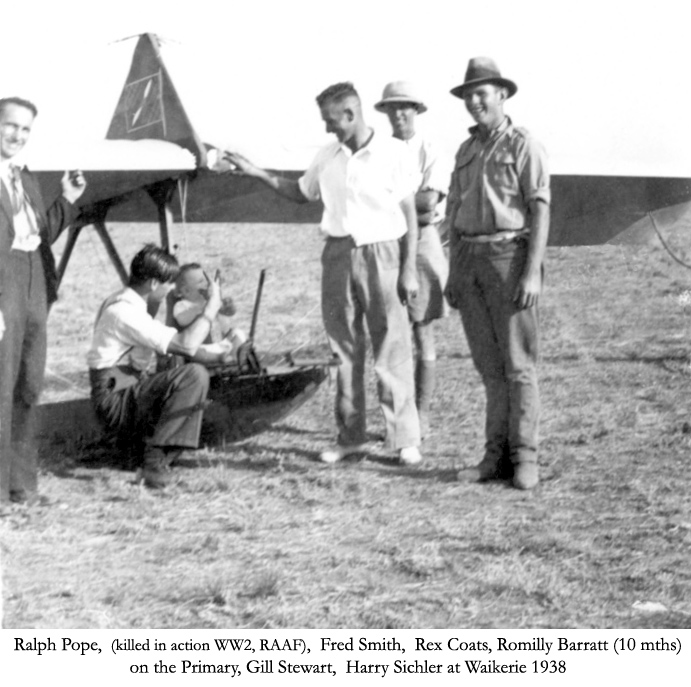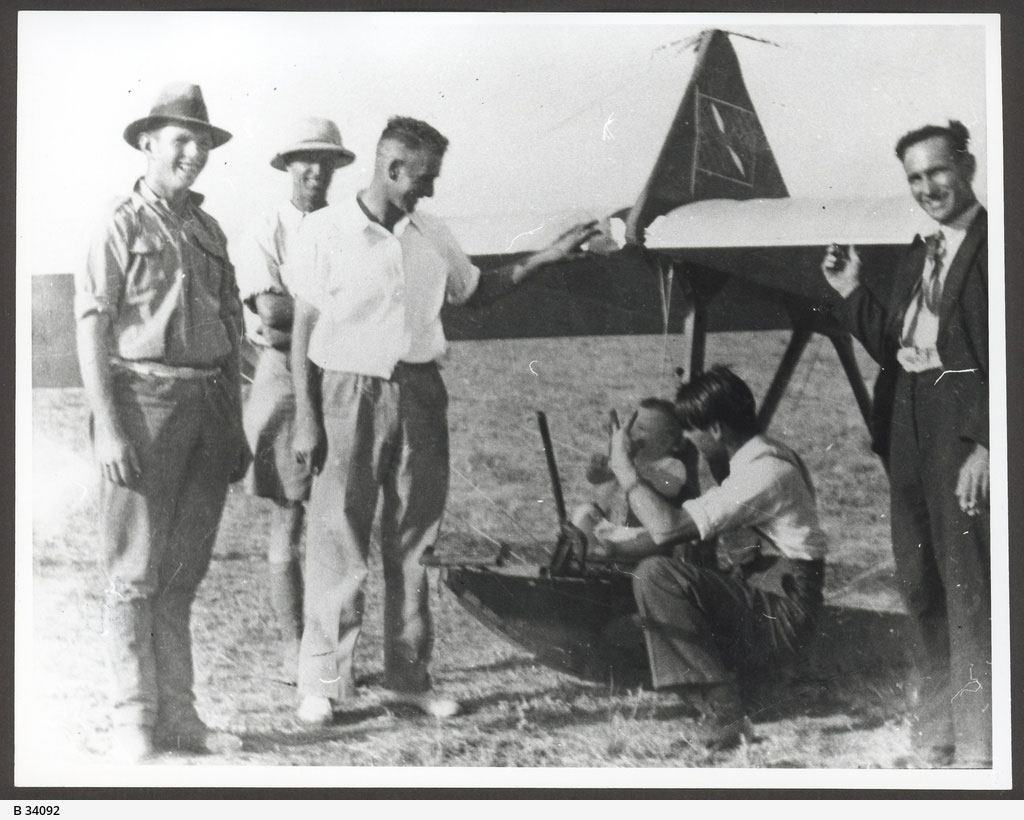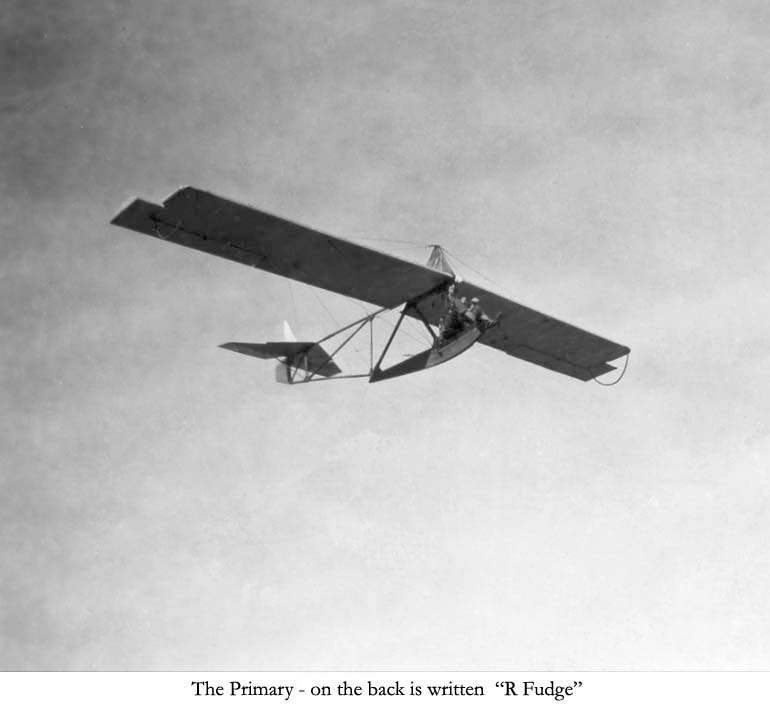 2. The first 25 years, 1937 to 1961
Introduction of a new generation of glider with the purchase of "Wien" glider and its conversion to a two-seater for training.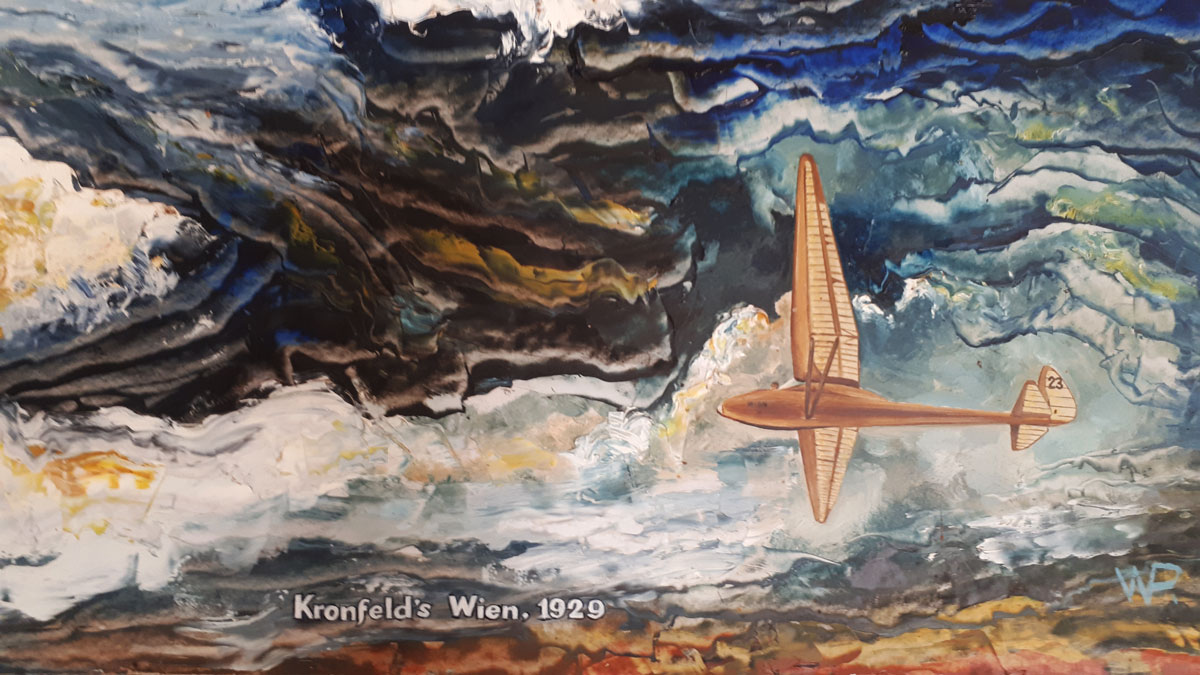 WGC holds the first glider pilot training course in Australia for a week in December 1938 and used the winch.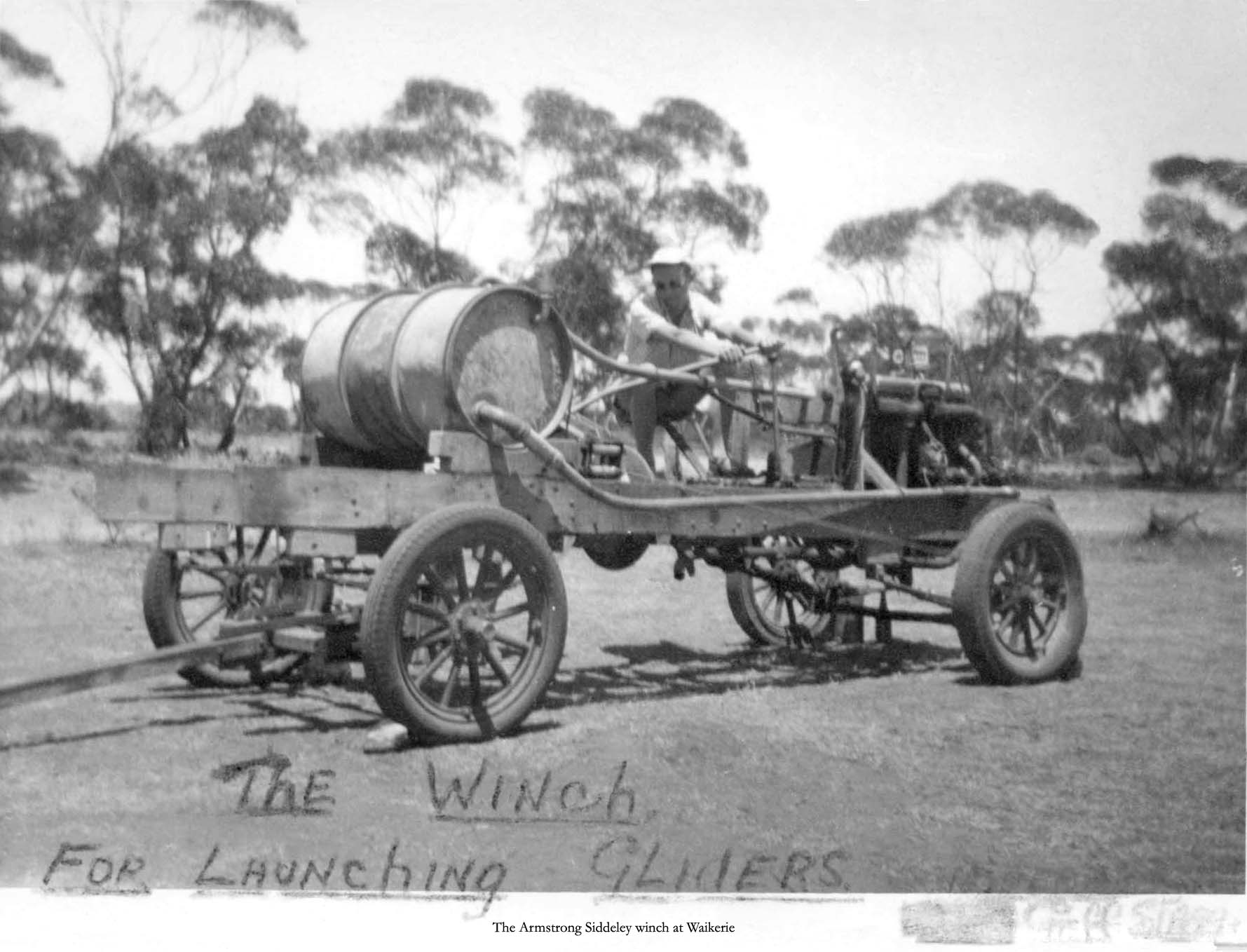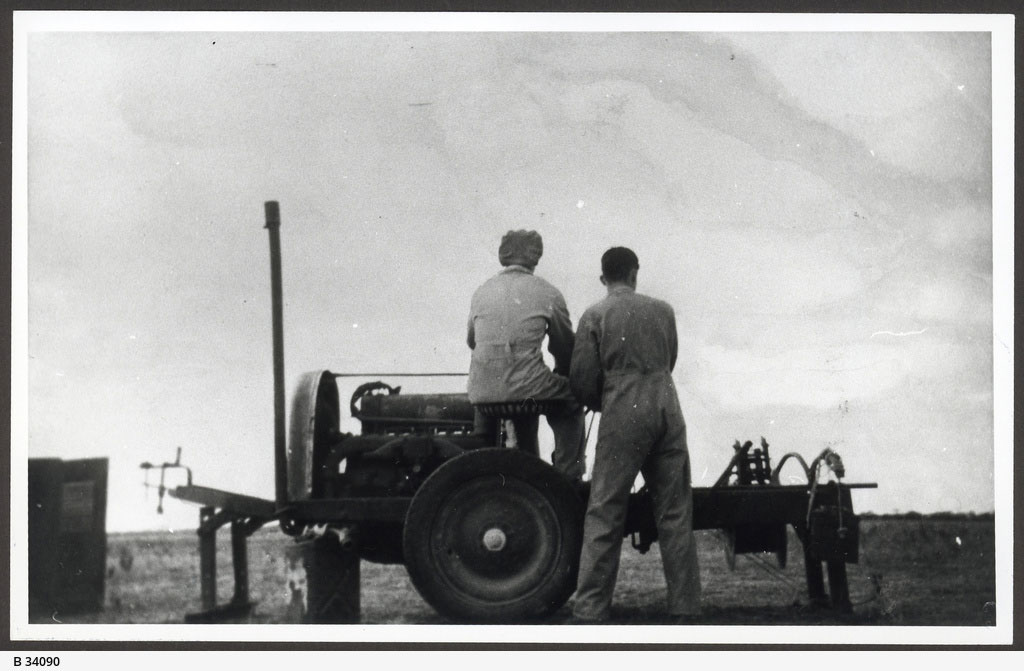 First flying visit to Sellick's Beach for slope soaring in 1939.

Branches formed in Barmera, Renmark and McLaren vale during 1940.
With the onset of World War II (WWII) WGC presented a detailed proposal to the Royal Australian Air Force (RAAF) offering training in support of the war effort.
With the loss of many members in service during WWII, WGC introduced a new pilot training philosophy to exclusively utilise two-seater training aircraft, the first gliding club in the British Commonwealth to do so.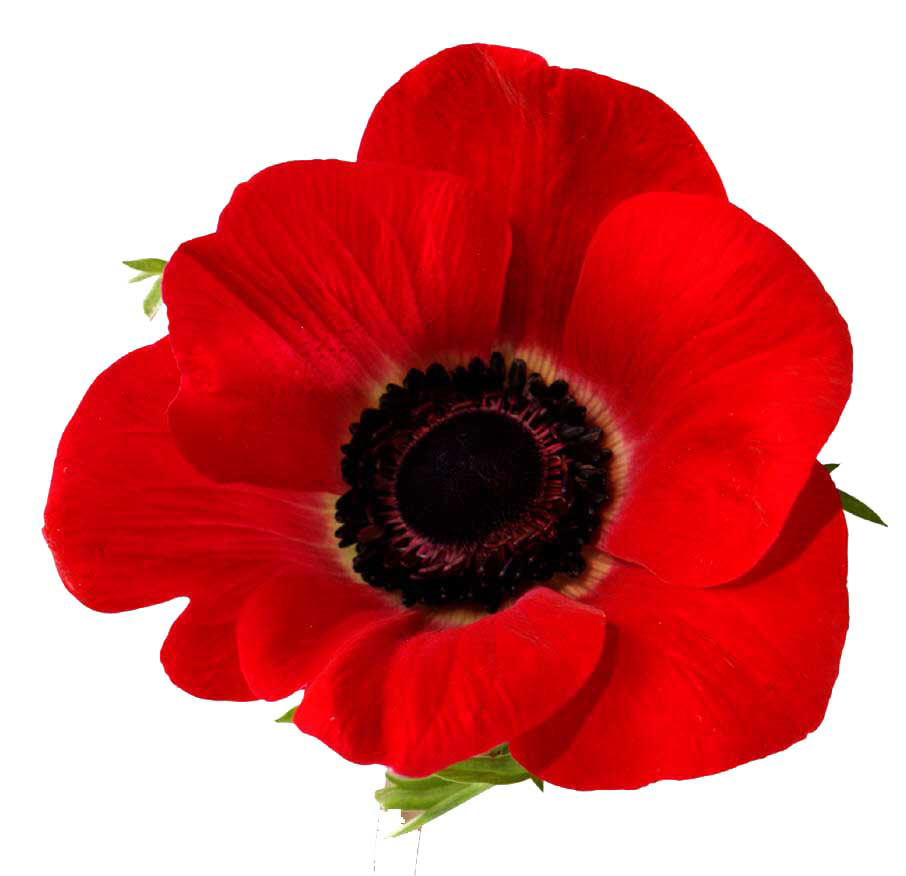 WGC was instrumental in 1949 in establishing the Gliding Federation of Australia (GFA), the peak controlling body for gliding in Australia today.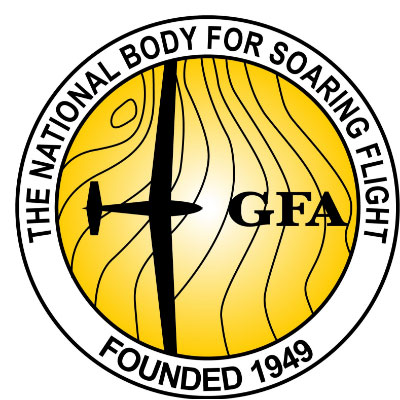 1952 saw WGC purchase an "Olympia", the best performing glider of its time.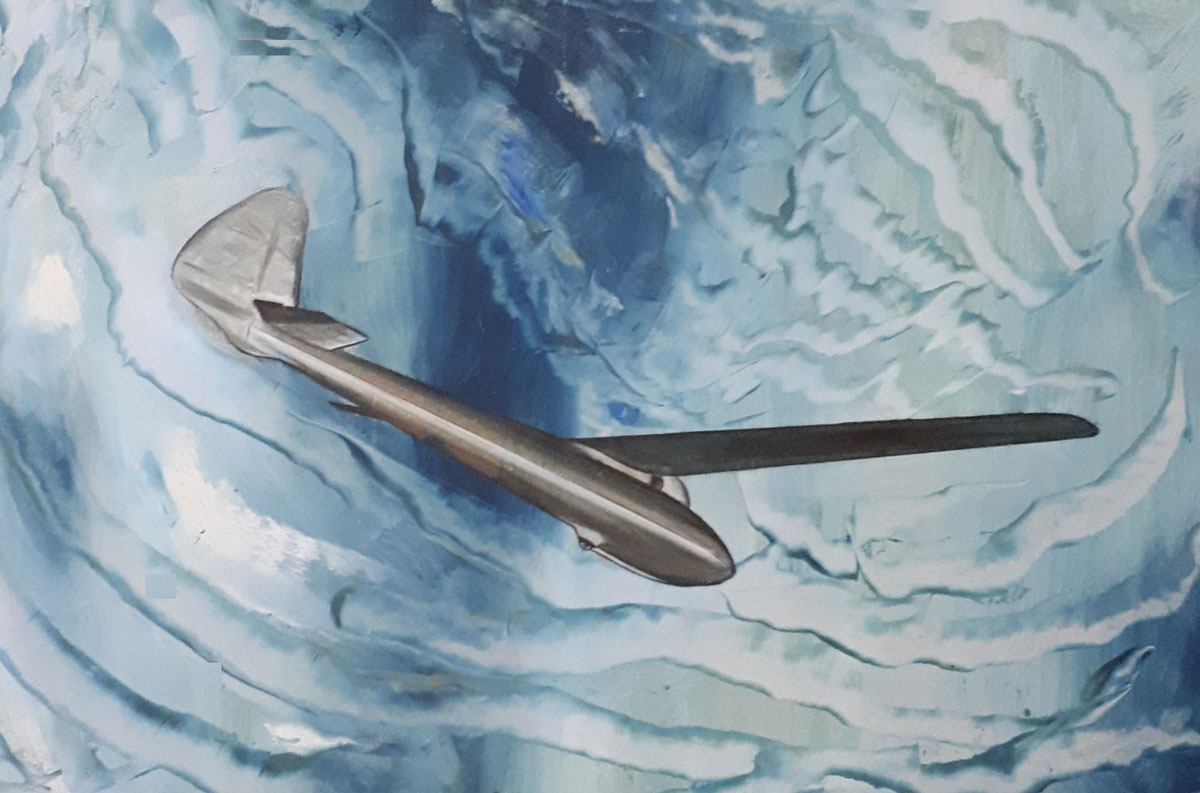 WGC members designed and constructed the "Pelican" two-seat training glider which first flew 22nd February 1953.
Pelican
Easter 1951 saw WGC hold the first centralised competition in Australia, the South Australian State Championships, with competitors from South Australia, Victoria and New South Wales.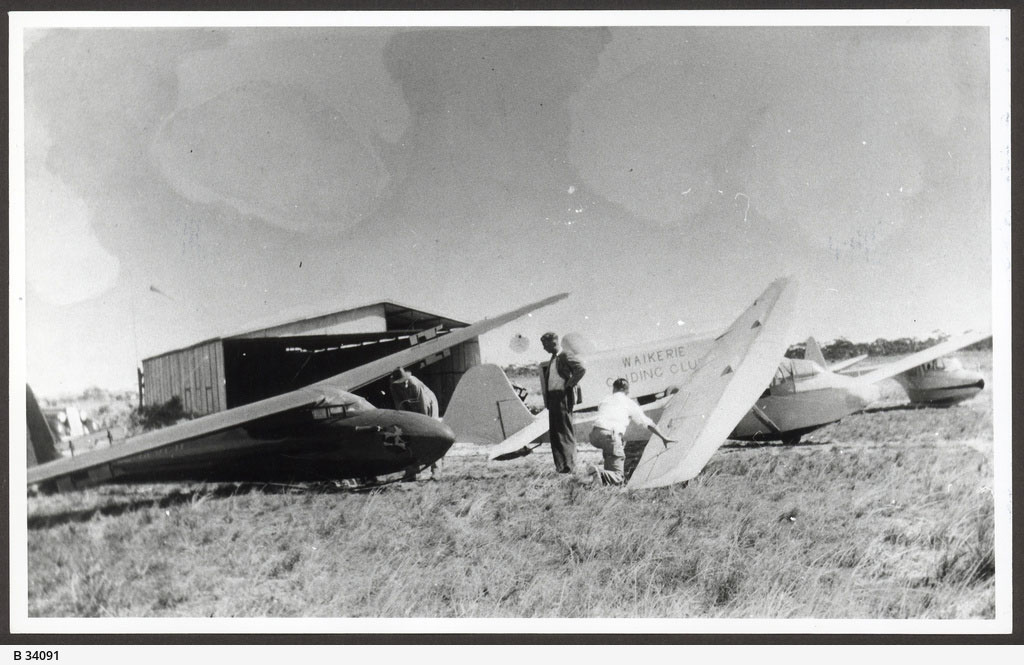 WGC established itself as a premier competition site with the second South Australian State Championships in 1955 which led to the first National Championships the following year.
Aero-tow launching introduced in 1961.
3. 1962 to 1987
WGC continued its world-class glider fleet with the purchase of a "Ka6" in 1962.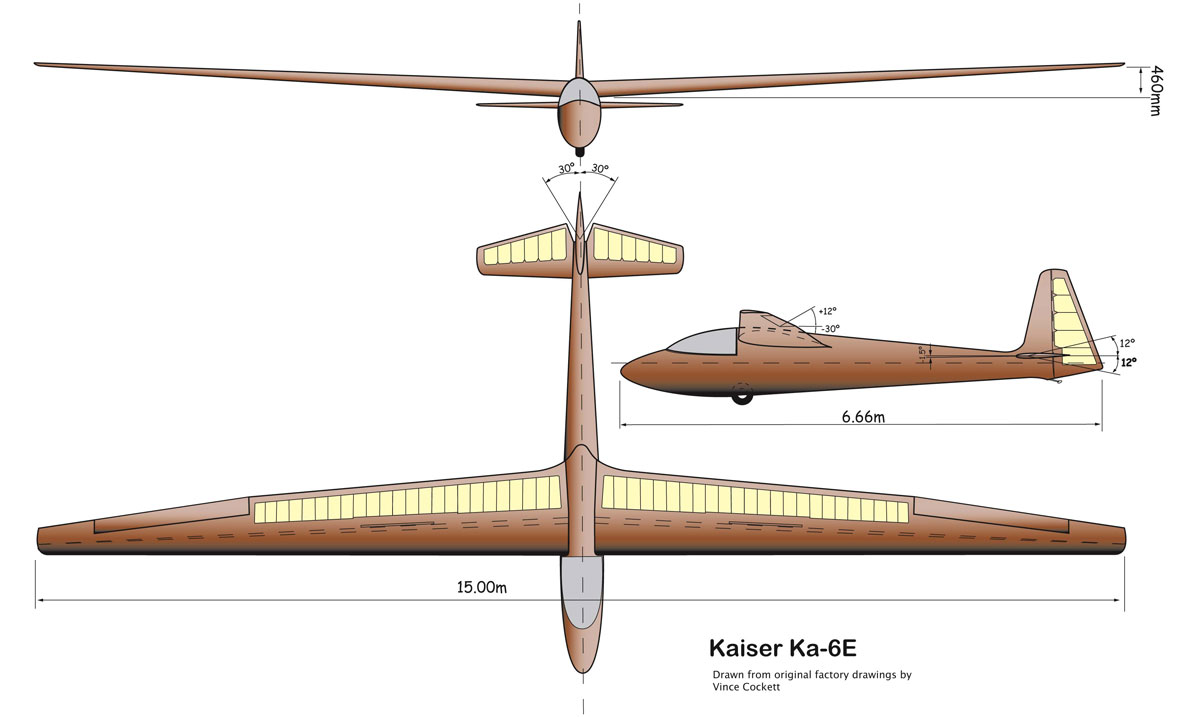 and two "Boomerang" gliders in 1964.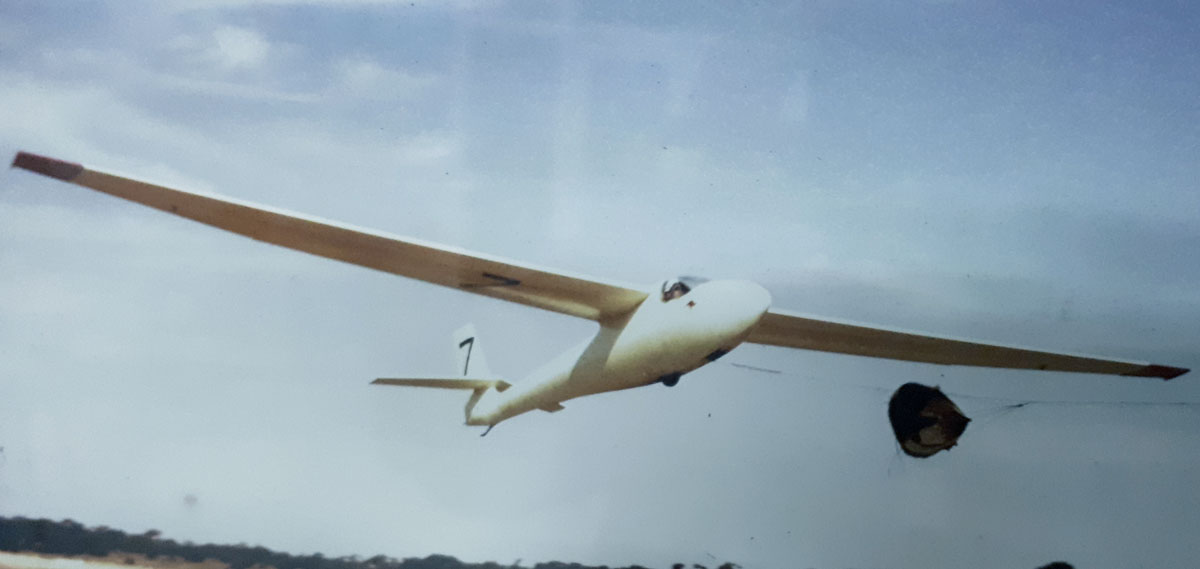 By 1964 all Australian gliding speed records were held by WGC members, as well as the first 500km triangle flown in Australia.

WGC purchased a 235hp Pawnee tow aircraft in 1968 amid criticism that it is too large, too expensive and too powerful. In 2014 it is still the most capable tow aircraft available and maintains the standard by which all other tugs are measured.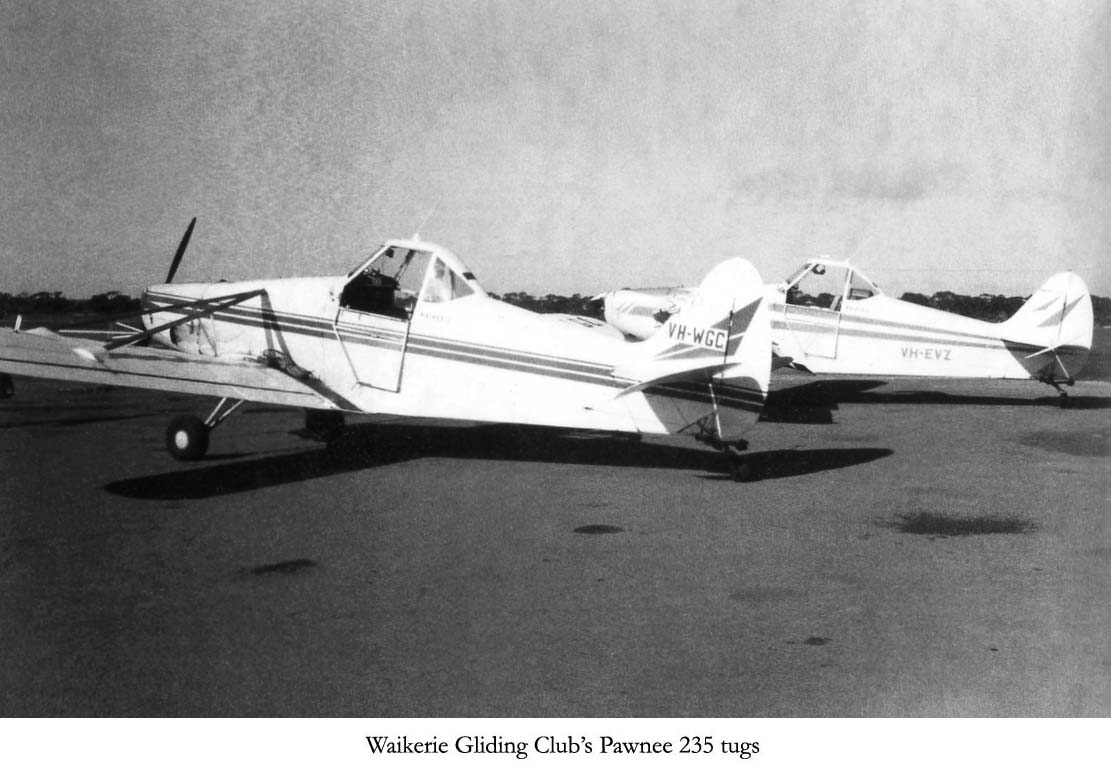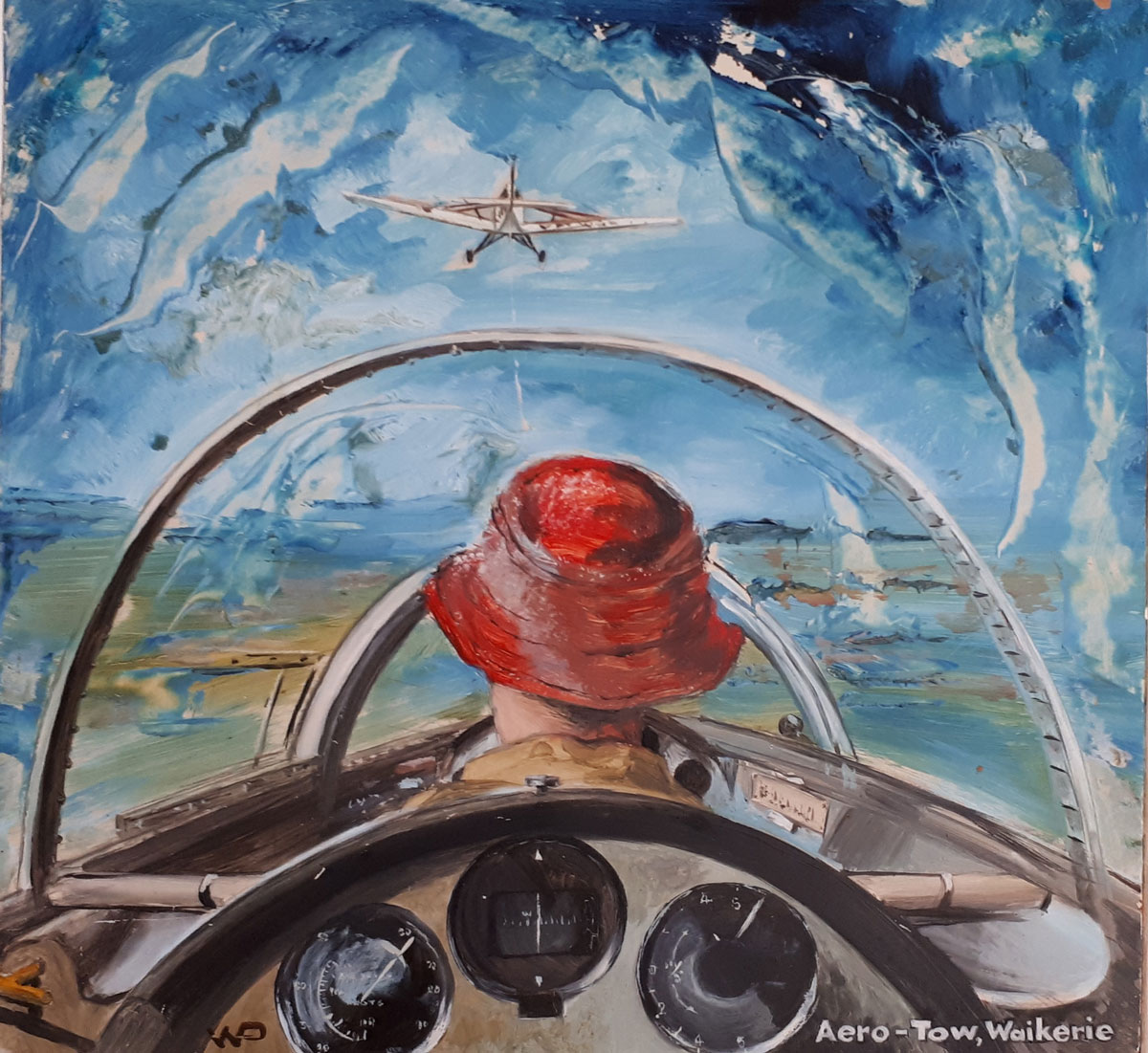 November 1968 saw GFA support a bid for WGC to host the 1974 World Championships.
WGC began year-round operations in 1969.
Expanded clubhouse and members' kitchen (designed by Kleemans) was erected by WGC with a loan from Waikerie District Council which was repaid over the following ten years.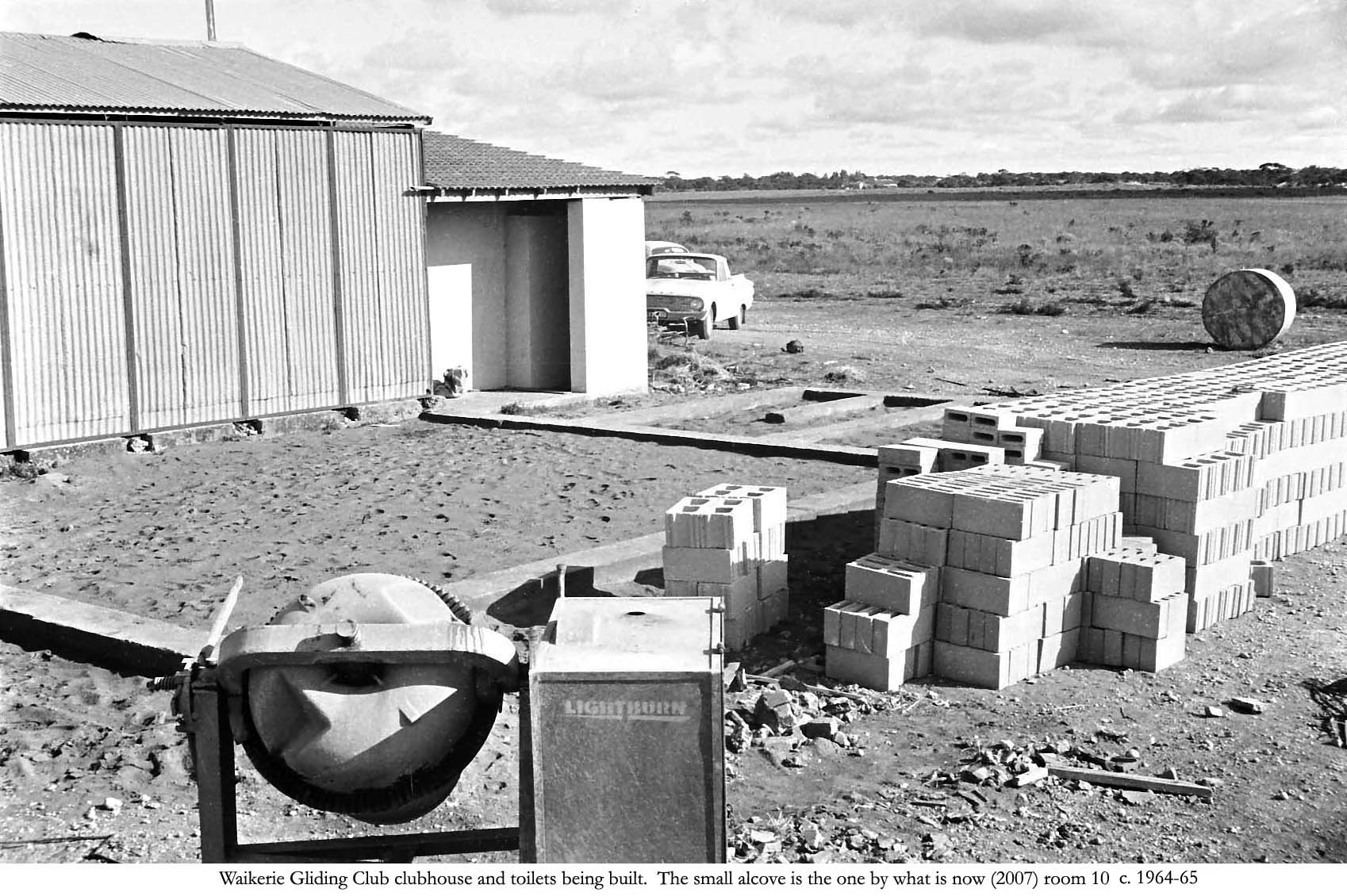 During 1972/3 WGC acquired the "Bellman" hangar from Mt Gambier aerodrome and Club members dismantled, transported and re-erected the hangar at Waikerie aerodrome The Bellman Hangar was designed in the United Kingdom in 1936 by the Directorate of Works structural engineer, N. S. Bellman, as a temporary hangar capable of being erected or dismantled by unskilled labour with simple equipment and to be easily transportable. Commercial manufacturing rights were acquired by Head Wrightson & Co of Teesdale Iron Works, Thornaby-on-Tees. By November 1938, 10 had even been supplied to Russia.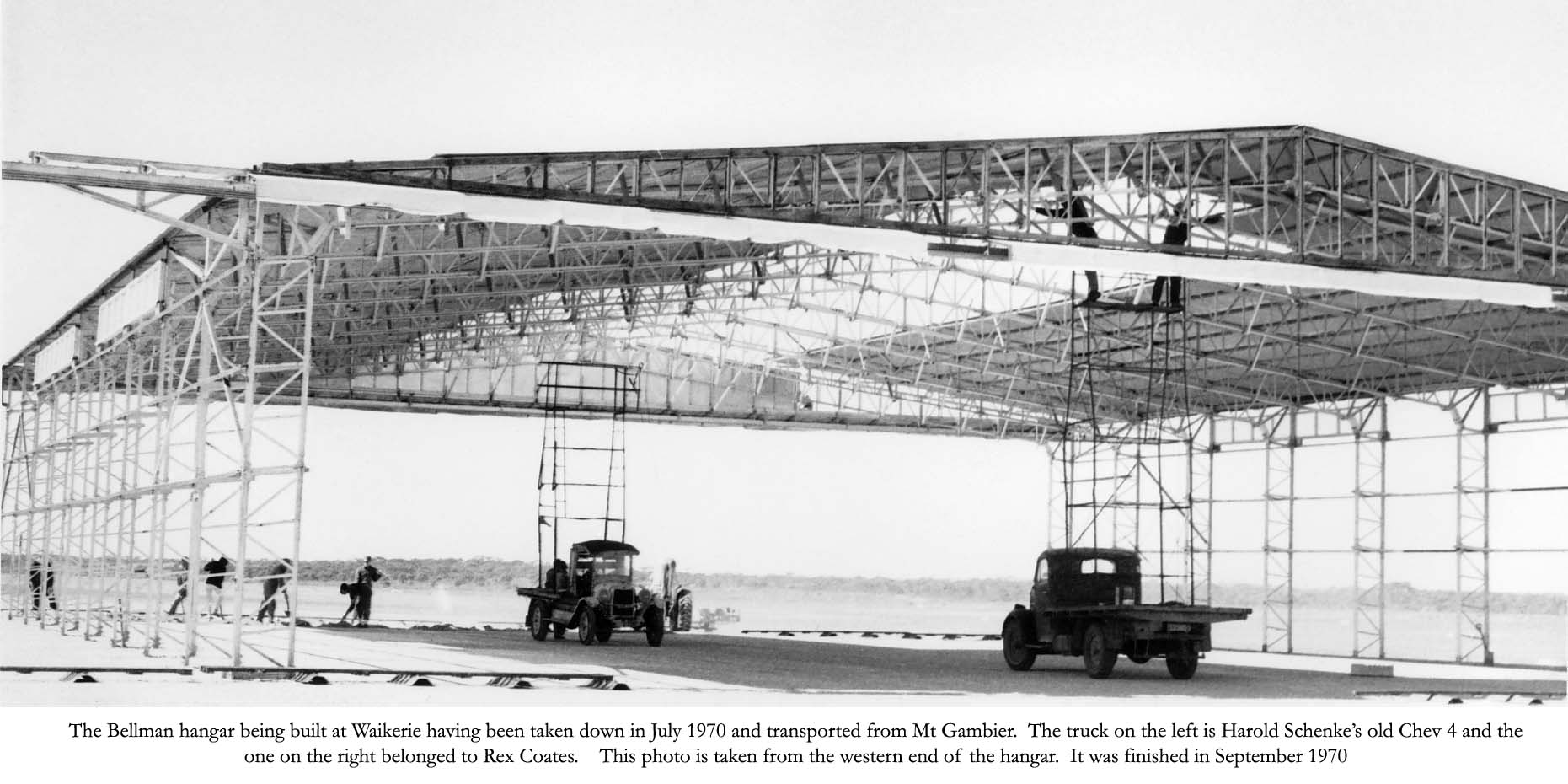 World Gliding Championships awarded to WGC and held in January 1974.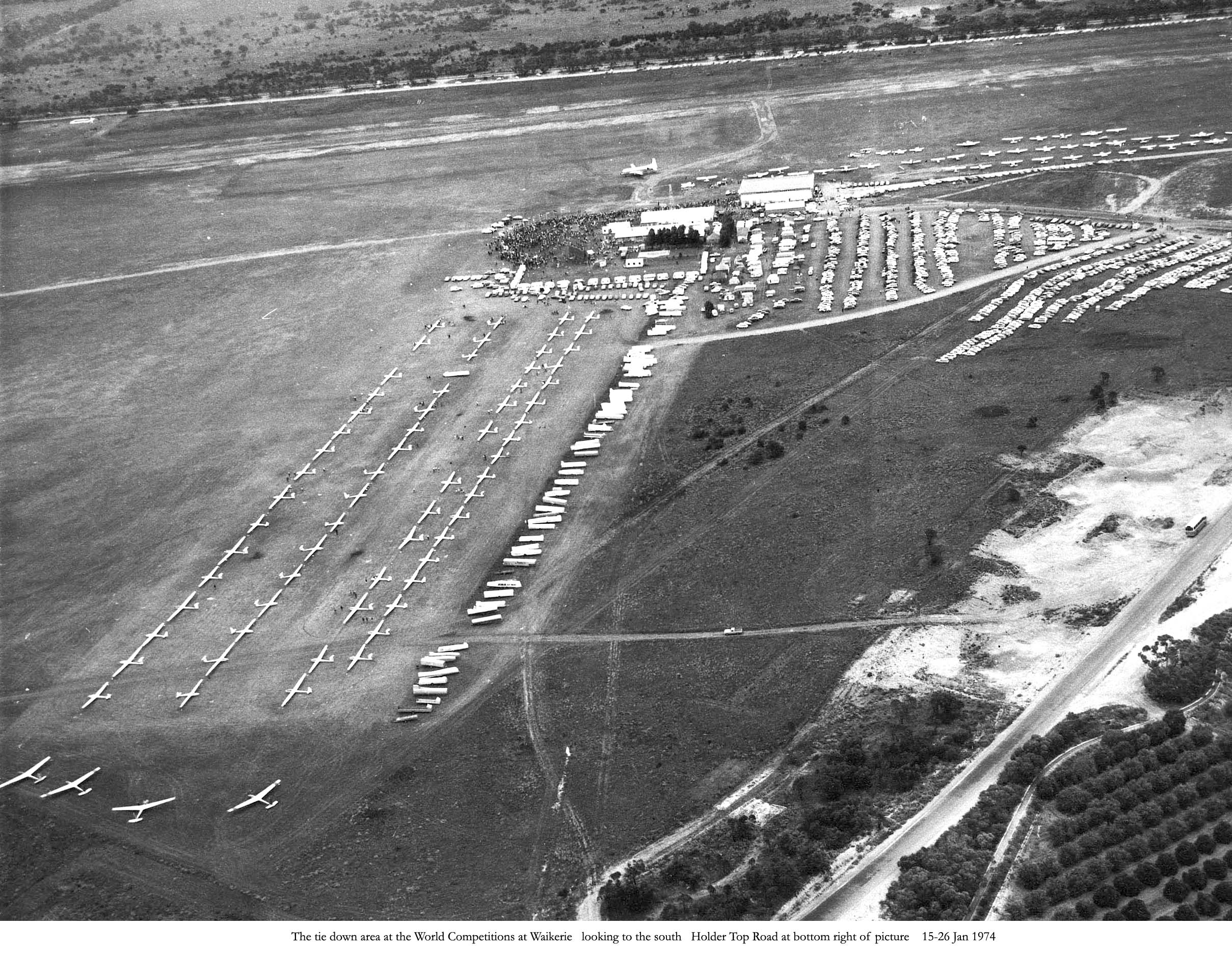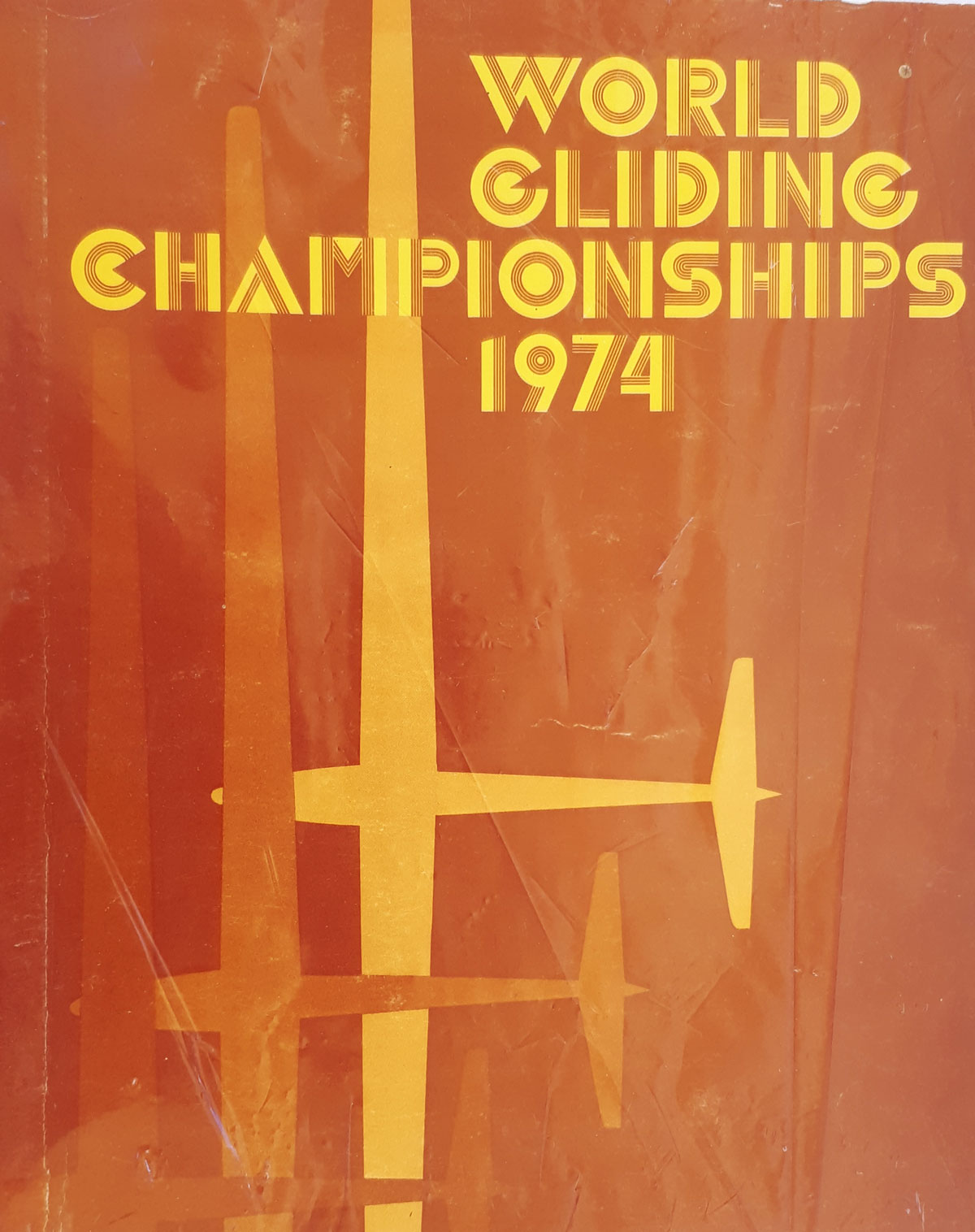 Considerable development at the Club and aerodrome was undertaken in preparation for the championships.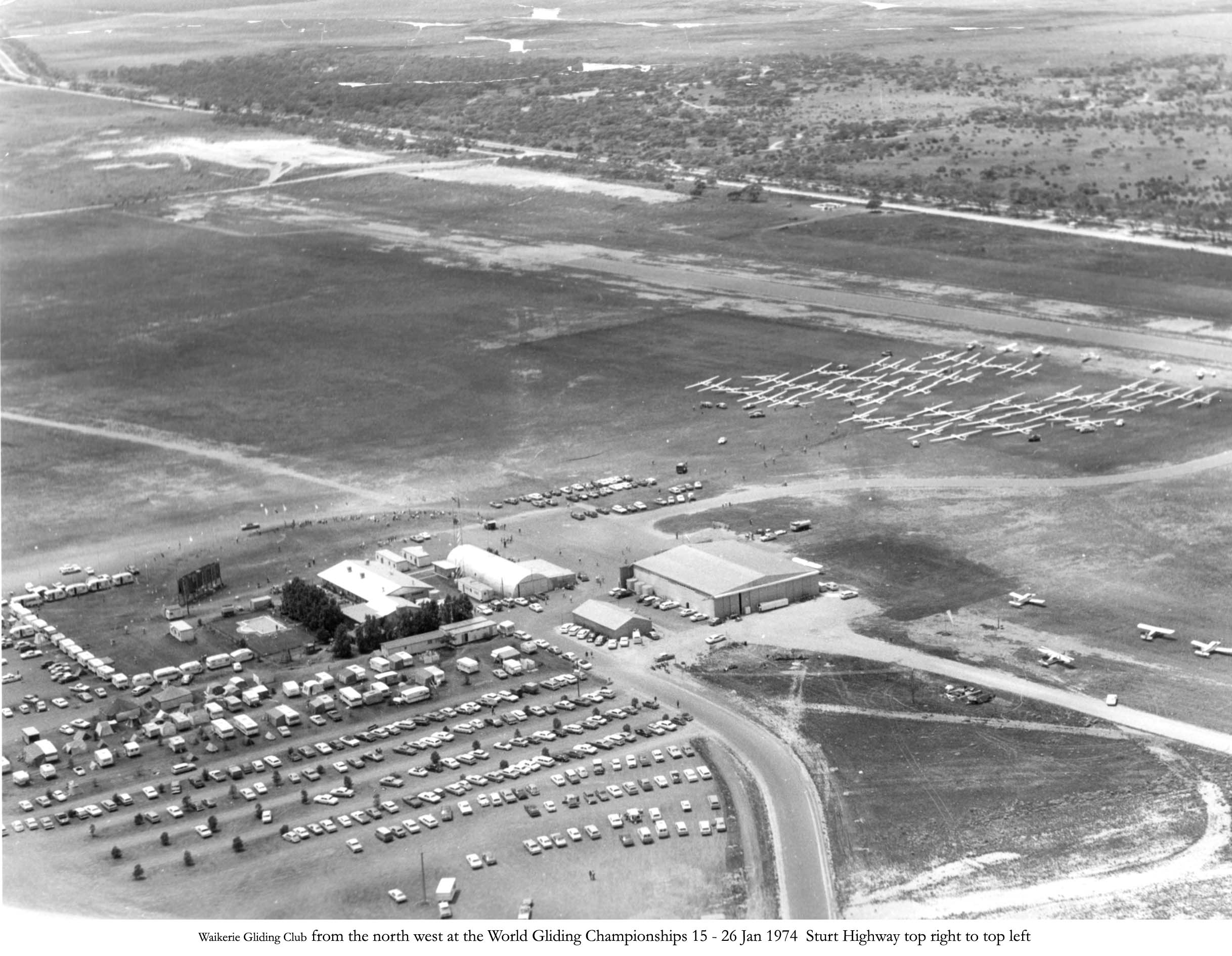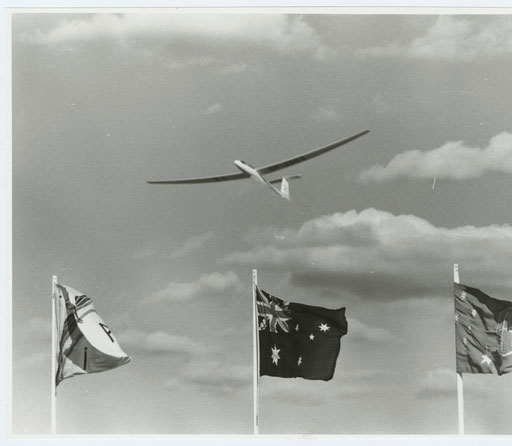 World's first 1000km FAI triangle flown from WGC in 1976, and the world's second in 1977.
4. 1988 to 2013
Full-time operations expanded to accommodate the increasing local and international demand by gliding enthusiasts and conducted through to 2004.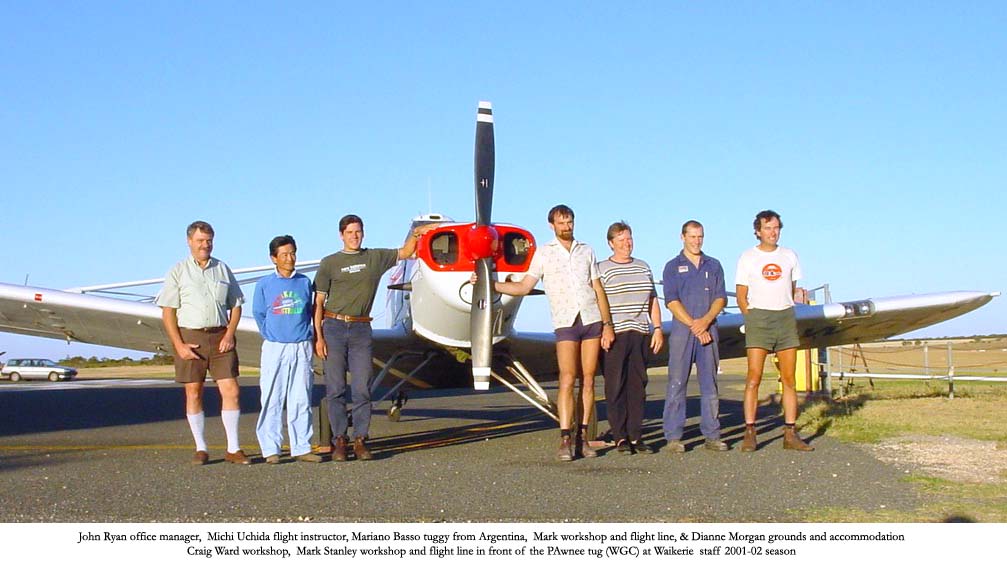 Large air show featuring the RAAF Roulettes staged for the Waikerie centenary celebrations.
Major glider repair and re-finish capabilities lead to the establishment of professional standard workshop facilities and the training of major repair technicians for careers in Australia and Japan.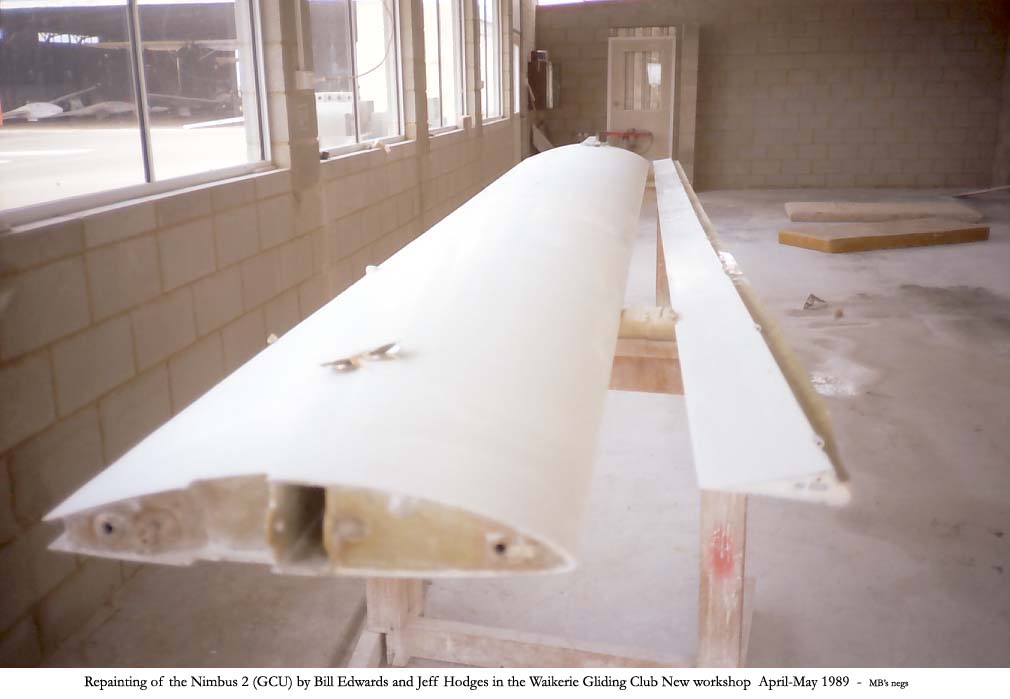 WGC hosted "Everything Aeronautical" weekends for Sport Aircraft pilots.
"Pelican" glider (designed and built by WGC) donated to the Australian Gliding Museum.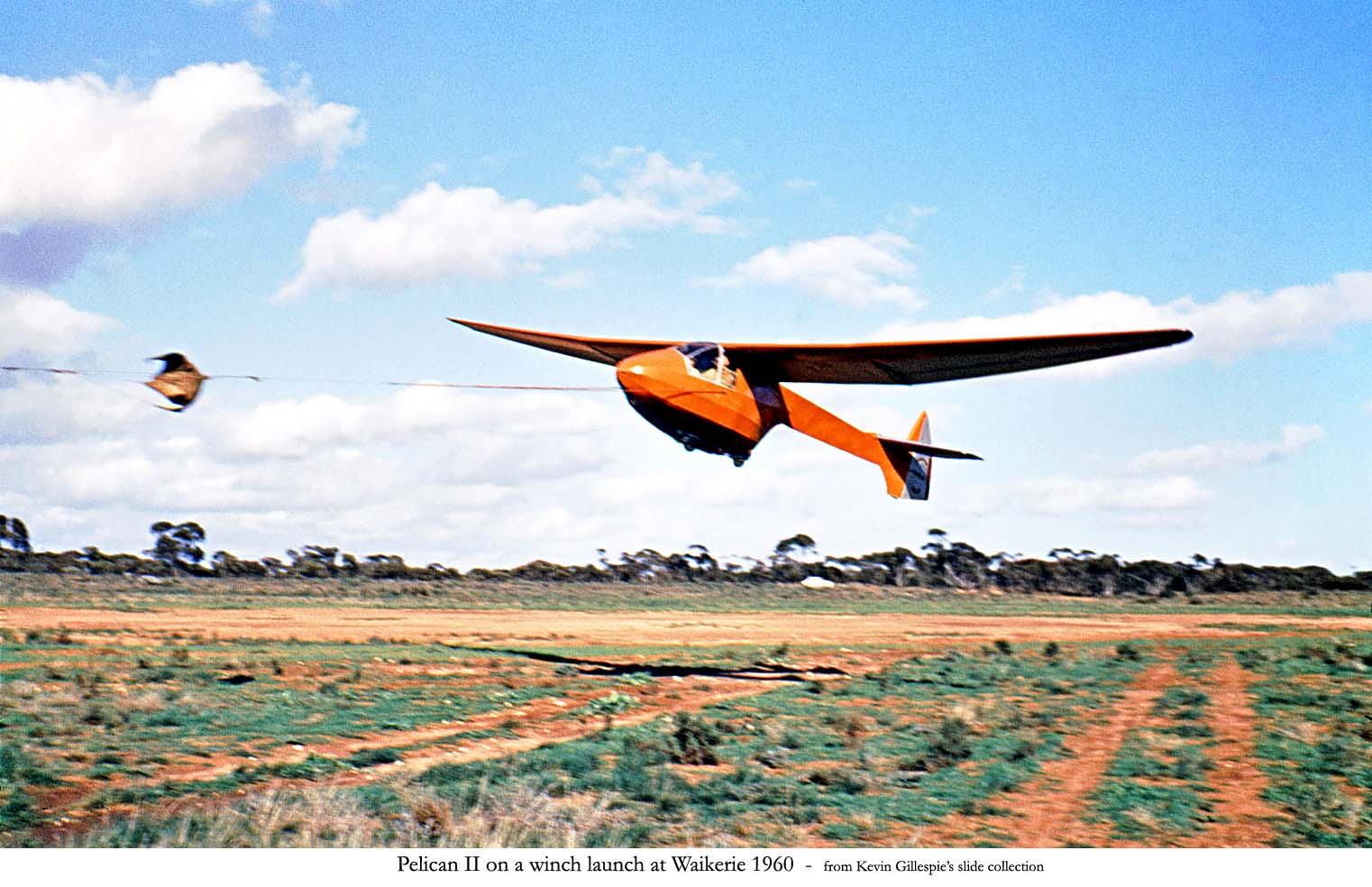 New Club constitution adopted in May 2011.
National and State Championships held regularly throughout the period, most recently the Multiclass National Championships in 2010 (and to be held again in 2015), State Championships in 1990, 2001, 2008, 2009, 2010, 2012 and the Club and Sports Class National Championships in 2004, 2005 (and 2014).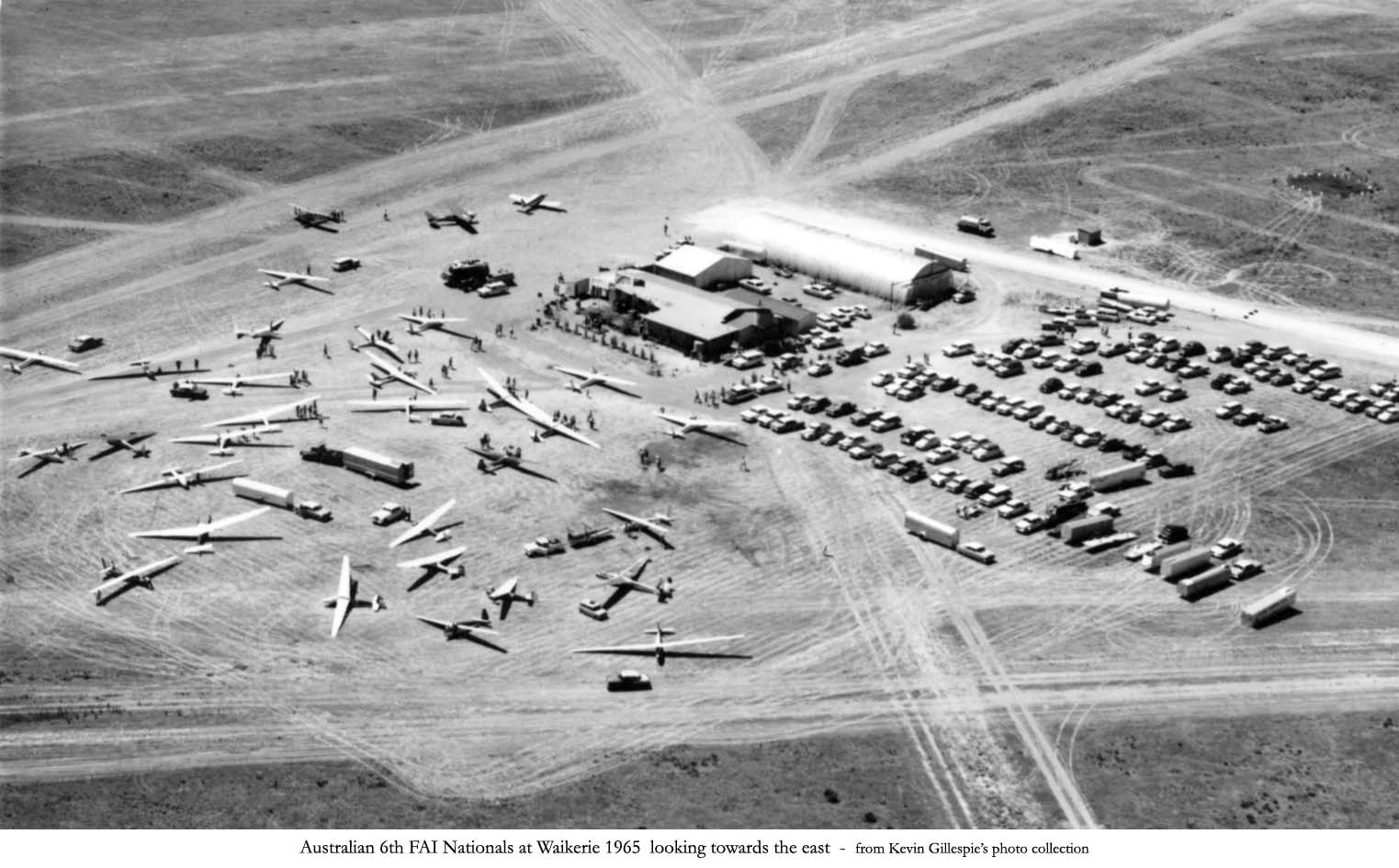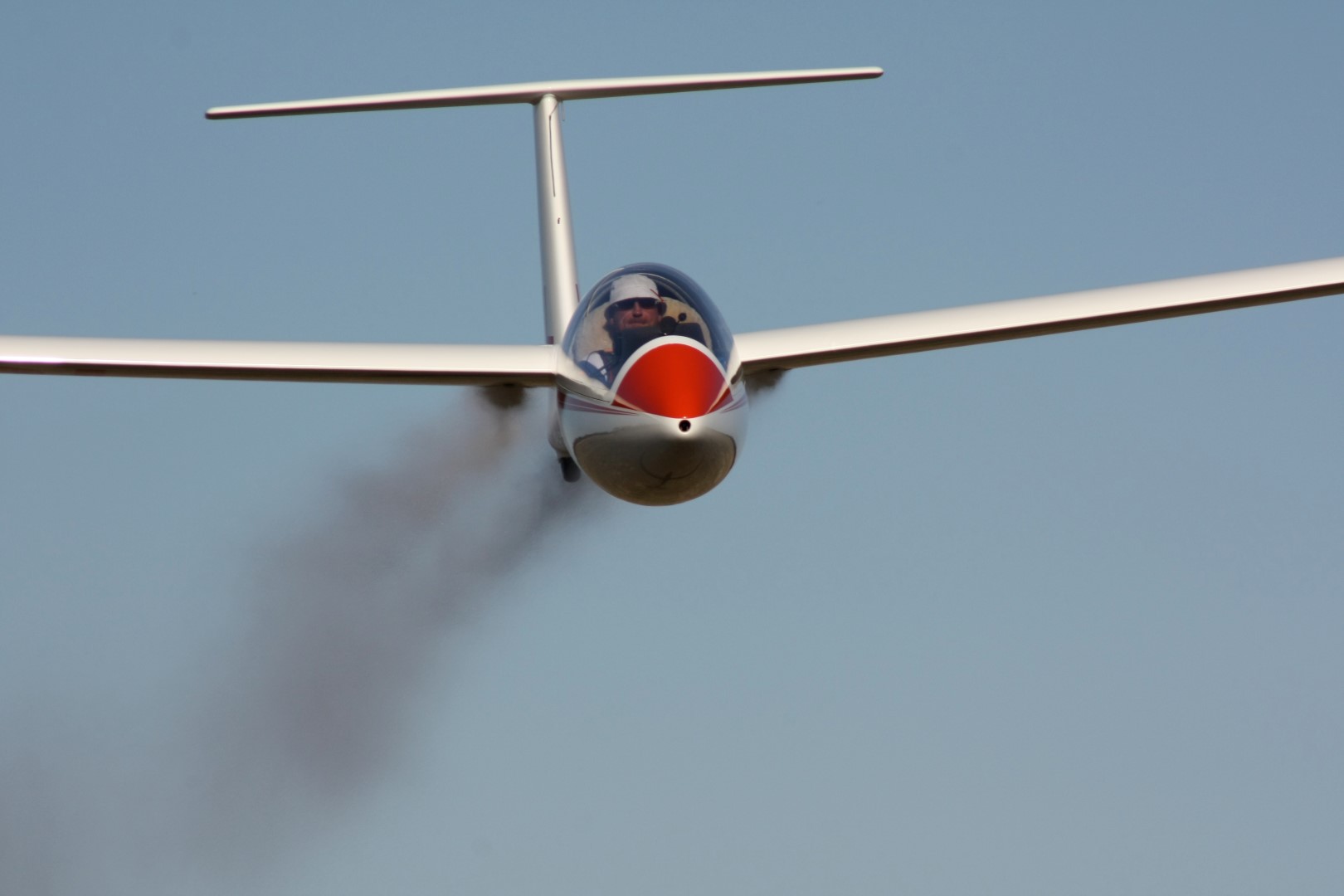 3.The next 25 years
1. Where are we now?
WGC is still considered to be a premier gliding site in Australia with varied weather from interesting to sensational, friendly terrain, negligible airspace restrictions, challenging task options and a great local community.
The club maintains outstanding facilities and a stable membership with a core of hard-working members.
WGC maintains a high standard fleet of fibre-glass gliders alongside an outstanding fleet of world-class gliders privately owned by members.

WGC is recognised as a centre-of-excellence for glider airworthiness and engines (many gliders are now equipped with auxiliary or self launch engines). (Photo courtesy of Allan Hudson below)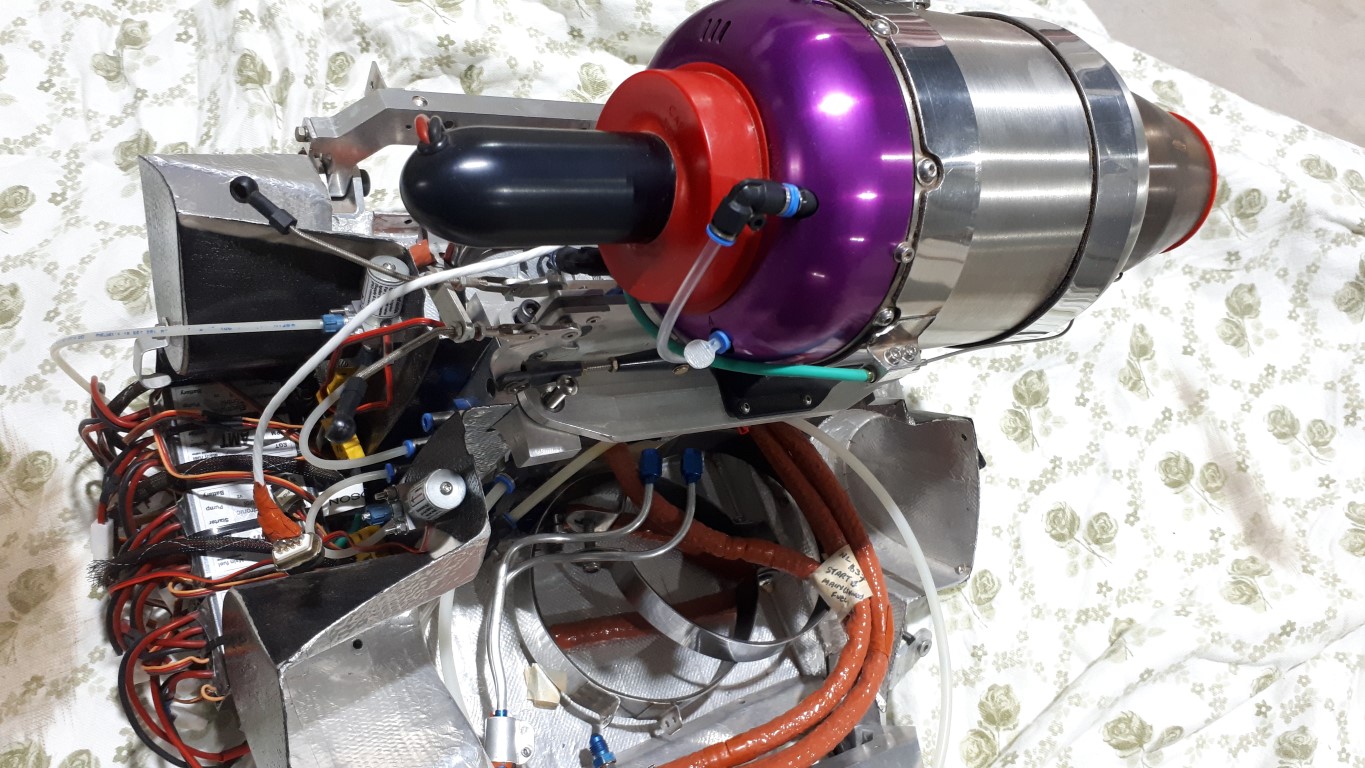 WGC hosts more local, state and national events than any other gliding club in South Australia.