Two seat training and fun glider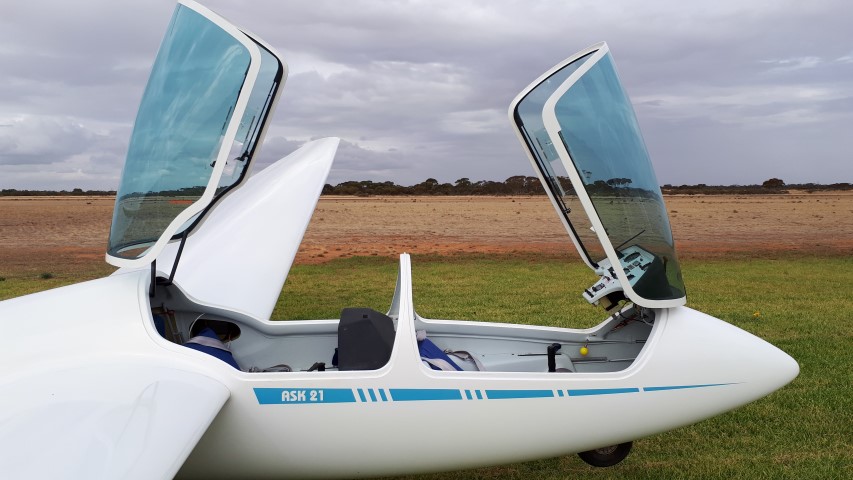 The AS K21 is a pleasant glider to fly. It is good for training and cross country flight, and is fully aerobatic. While not an all-out performance glider, it is one that people enjoy flying.
The glider's systems are relatively simple: fixed undercarriage, no water ballast. A spin kit is available for spin training and check flights.
This sailplane was purchased from another club in 2008. In 2012 it received a major re-finish and re-furbishment, and it's in excellent condition.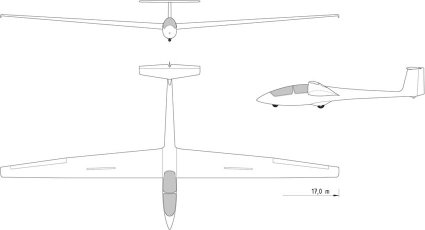 Performance
Best L/D about 34 at 48.5 knots.
Minimum sink (single-seated) 0.65 m/s
Specifications
Two seat sailplane: tandem seating, wingspan 17 m, fixed sprung main wheel with nosewheel, T tail.
Wing Area:  17.95 m²
Empty weight: 382 kg
Maximum weight: 600 kg
Minimum pilot weight: 70 kg (front seat)
Maximum pilot weight: 110 kg (either seat)
Wing loading range: 25.2 to 33.4 kg/m²
Max. speed 151 kts
Maneuvering speed 97 kts
Dive brakes extended up to 135 kts
Maximum load factor (97 kts) +6.5 -4.0
Maximum load factor (151kts) +5.3 -3.0
See also: Schleicher's webpage about this glider
The club's Handling Notes for the K21 are in Club Documents.
K21 Handling Notes, MS Word, 184 kB
Manual for LX16 Electric Vario, PDF, 0.8 MB
Manual for Xcom VHF Radio, PDF, 2.8 MB